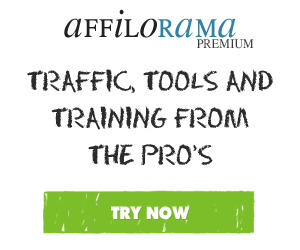 I know there's a lot of information already out there about Affilorama, so this Affilorama Premium Review is focused on how to decide if the upgrade to a premium Affilorama membership is a reasonable investment for your business
If you're unfamiliar with Affilorama and looking to get started, you should read the article on Is Affilorama Worth It? first.
Affilorama Premium Review: What's Included
The first step to deciding if Affilorama Premium is worth it is to consider what, exactly, is included with your membership. If you've tried AffiloBlueprint, you had a one a month access to Affilorama Premium included with your membership, so I'd recommend you start with AffiloBlueprint first if you haven't already.
Affilorama Premium Overview
Affilorama Premium is a complete training and resources program for affiliate marketing, offering a series of updated lessons and guides on market trends, and includes access to Affilorama's state of the art tool-suite, AffiloTools.
The premium-level membership includes a suite of educations and practical tools to help, beginning, intermediate, and advanced affiliates. If you're truly an advanced webmaster, you could probably skip the premium membership and focus solely on the AffiloTool program.
If, like most of us, you feel like you still have room for improvement, Affilorama Premium offers training that is updated every month to i) cover new topics, and ii) stay up-to-date with changing trends and best practices.
AffiloTools
AffilorTools is a software suite designed specifically for internet marketers. The toolbox helps you streamline many of the laborious aspects of affiliate marketing, such as keyword research, domain research, and on-page optimization.
In addition, the tool-set lets you actively monitor your search engine ranking, providing recommended updates based on the latest Google algorithm adjustments. The package also includes backlink monitoring so you can track where your site is getting indexed and linked.
Should You Go Premium?
The decision to go premium with Affilorama is one that depends on where you are as an affiliate. If you're just starting out and only seeing a small amount of daily or monthly traffic, you probably won't be able to make the most of the tools that Affilorama offers, and it may be difficult to make a solid return on your investment.
If, however, you have at least one strongly-performing affiliate site and are looking to figure out how to optimize your traffic to increase conversion, then Affilorama Premium may be right for you. You'll get comprehensive training, but not beginner-level handholding.
If that sounds like you, I think the benefits of a premium membership are well worth a try. There's an incredible $1 trial offer, and as always, Affilorama offers a 60-day money back guarantee on all of it's products, so the advantages are well in your favor.
I hope this helps you make a decision about Affilorama. As I've mentioned, I'm consistently impressed with their products, but if you'd like to explore other options, the affiliate training course page has a list of more programs you might want to try.