Affilorama is one of the leading providers of affiliate marketing training, information, and tools on the market today. Even so, as a beginner many people aren't sure they wan't to shell out the $197 price tag to try a service they're unsure about.
In this post, I'll provide an extensive Affilorama Blueprint Review, officially known as AffiloBlueprint. So is Affilorama Worth It?
Affilorama Blueprint Review
Overview
Affiloblueprint is one of Affilorama's top-selling products, and a great introductory course to anyone who wants to learn about affiliate marketing. I consider it the number 2 program, in my article on where to buy an affiliate marketing course, and it's consistently ranked highly by many of its users.
Unlike most membership-based options, the course price is a $197 one-time fee.
What's Included
The AffiloBlueprint course includes:
12-Step training course
85 Video classes and tutorials on a wide breadth of topics.
Easy to follow instructions and tasks.
Access to Affilotheme blog templates and hosting.
Interactive forum for asking questions
One month access to Premium Membership and AffiloTools.
The Good
There's a lot of value included in this program. My personal highlights are:
High Quality Training. The course videos are professional and well put together. The course walks through a 12-step process that provides accurate, well-proven techniques for how to build an affiliate marketing site, and cover the key topic areas in a lot of depth.
Step-by-Step Approach. The course also does an excellent job breaking down the seemingly daunting task of website construction – from content creation to search rankings to actually generating revenue – and walking the user through each step in a way that's easy to replicate on your own project. Specific task lists are given with each lecture.
Extra Videos! In addition to the course-path, there are numerous extra videos included with your purchase, for a total of 85 topic-explanations and how to guides.
For Beginners and Intermediates. Unlike the majority of training programs, which are only geared towards the complete beginner, AffiloBlueprint provides valuable information for the intermediate marketer as well. If that's you, it's easy to skip past the basics on how to setup a blog and go straight to the more advanced tips on increasing traffic and optimizing your earnings.
The Bad
No program is perfect, and there are a few main downsides to AffiloBlueprint.
High Barrier to Entry. My main grief with Affilorama is that they don't do a lot to show off their program until you buy, and for anyone taking a quick glance, it may appear pricey. The thing to remember, however, is that unlike most affiliate courses, which have recurring monthly payments, the AffiloBlueprint fee is a one-time payment.
The Community is Just Ok. Like many training courses, included in the program is access to a large community of other students, advisors and mentors. The biggest fault I have with the course itself is that this community could be much more developed and active than it is. It is possible to find good mentorship on the site, but it's a little harder than it might be elsewhere.
Pressure to Use AffiloTools and Premium. Included in the Blueprint course is a one month free subscription to two other Affilorama products: AffiloTools and Affilorama Premium. On the one hand, this is pretty cool, because you wind up getting a ton of extra value for free, but the downside is that I felt a little pressured to upgrade to each at the end of the month.
Is Affilorama Worth It?
In a word: Yes!
Affilorama ranks as my #2 Best Affiliate Training Course.
While Affilorama is not personally my favorite training program (that honor goes to Wealthy Affiliate), it provides a ton of value for a very reasonable price. Wealthy Affiliate only wins out because of the incredible community aspect and the low barrier to entry.
As I mentioned above, the biggest drawback to getting started is the price tag, but after a few months you wind up earning back the value of the program, and compared to a monthly membership fee with other services, the course price quickly becomes a great value.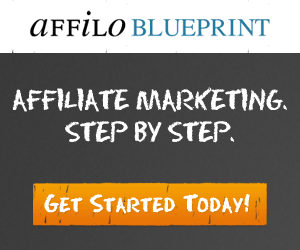 So go ahead and commit to building a profitable affiliate business with AffiloBlueprint. If you're worried about the upfront price tag, rest assured that Affilorama is now offering a 60-day money back guarantee on all of it's products. If you try the program and don't like it, you can get a refund with no questions asked.
Remember:
Action always beats inaction. Get Started Today!